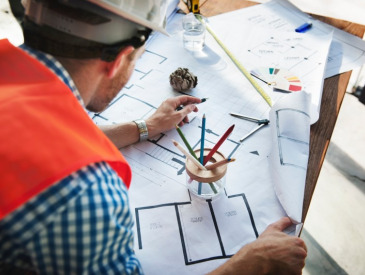 Ghafari is a consulting firm. We cater to both the public and private sectors. Our most distinguishing characteristic is our criteria for a successful project - No Ghafari project is considered a success until it demonstrates a positive synergy of form and function, fulfills all industry standards and exceeds client expectations.
We will settle for nothing less
To ensure this success, we draw on the knowledge and specialized experience of our team to provide services throughout the world. Our core competencies include, but are not limited to, civil engineering, land planning, site development, due diligence services, utility engineering, stormwater management design and permitting, stormwater inspections, landscaping and structural engineering.

Ghafari is privileged to employ professionals who must demonstrate two specific characteristics: a highly efficient project management style and a passion for superior client service. On every project, our engineers consistently work as active partners to achieve our clients' goals - from concept, all the way through project planning, design and construction.
Whether we are engaged to design commercial, industrial or Development of Regional Impact, the Ghafari staff approach each project with a fresh mindset. This dedication to fresh solutions allows us to provide both cutting-edge and cost-effective solutions for our clients, often with benefits that exceed our clients' expectations or visions.
Our intensive local knowledge, relevant experience and technological commitment ensure that we can consistently meet the specialized needs of each individual client and project - on time and on budget.
Company Philosophy
The undeniable manifestation of the human spirit is the civilization it creates. While great civilizations have risen, flourished and ultimately fallen over the course of history, their lasting legacy perseveres. In a physical sense, this legacy outlives the ethics of the society that created it and dwells in the evidence that remains; architecture and infrastructure. The daily lives, dreams and ambitions of the ancient Egyptians, Babylonians, Greeks, Aztecs and other great civilizations have all but vanished into antiquity. However, their pyramids, buildings, bridges, dams, aqueducts, cities and infrastructure continue to fascinate and enrich us to this very day.
Mission Statement
We at Ghafari are dedicated to improving the legacy of the human experience through civil engineering. This dedication is embodied in our vision: "Engineering Civilization, One Project at a Time"
To fulfill this vision, we make this solemn commitment to our profession, clients and employees:
To Our Profession:
We will continually strive to advance the overall benefits of civil engineering to mankind. Our efforts will be empowered by vision, innovation and a steadfast commitment to practical application. We understand the massive impacts on future generations brought about by the practice of our profession and count it an honor to lay the groundwork for a world that is better than our own.
To Our Clients:
We are totally committed to applying our best efforts, technology and education to accomplish our clients' goals for the best possible outcomes. Our passion to serve is tempered by humility and our pledge to pursue the greater good of civilization as a whole. Serving our clients is our reason for existence.
To Our Employees:
We view our employees as our most valuable asset in the pursuit of our mission. As such, we will treat our employees with dignity, trust and respect. We will continually empower the growth and development of each individual for the purpose of creating an environment of unity. Unity of cause. Unity of spirit. Unity of outcome.